right now i'm on sean's computer.
he's passed out on his bed.
we just watched Equilibrium. pretty good movie although certain parts really just don't make sense. apparently people in this society don't feel and they get executed for "sense-offending". how can you be alive without any senses? there's no desire for anything. you wouldn't even feel hungry to eat to sustain yourself.
atlanta has been fun. sean and travis and i went to the zoo on the second day.
i love the zoo.
on friday night, rorey came back from tally to hang out, which was nice. it's been awhile since i've seen him. we kicked the soccer ball around an empty parking lot for a little bit after getting kicked off a field [mccurry].
i tried to participate. i'm not too bad actually.
we went to the mall, i bought a lot of things, spent a lot of money, etc etc.
then on sunday night we drove to tally and got there around 2 am. the drive was nice, rorey was asleep in the back but sean and i got to catch up a little bit and share some music.
i like car rides. a lot.
almost as much as i enjoy vintage vacuum cleaners.

monday we woke up and after rorey got off work we went to wakullah springs with some friends of his. i jumped off the two story dive tower. but it did take me awhile to get up the nerve to do it. not to mention i made the life guard jump off with me the first time. the water was really clear and only about 60 degrees.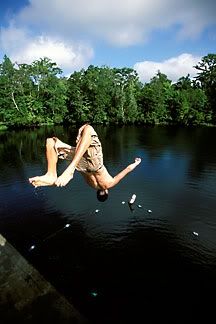 a party [frat guys TKEs
+ one keg] came later that evening where pinkie and i were destroyed at beer pong but won it all back at flip cup. i
told
you fuckers i was awesome.
pinkie and i thought it would be a brilliant idea to stay up all night [8 am] which was a decision i totally regretted the next morning.
i lied. i really did enjoy it. quite a bit. [toured FSU, saw fish in a disgusting fish tank, watched venture brothers]
today i'm back in atlanta.
tomorrow we go to the aquarium at 8 am. which means i have to wake up at 6 because it takes an hour to get anywhere in this city.
i have polaroids to show everyone.
and pictures to be tagged on facebook.
<3